WANTED:

Hood that fits John Deere tractor models 4500, 4510, 4600 & 4700.

Call Harold Herndon at 919-929-9603.
---
FOR SALE:
96 CI Harley V twin garden pulling tractor. Rolling chassis but needs to be finished. New S & S carb. New splined hub adapter to fit engine PTO. New MWSC double clutch. Custom 1" chromoly tube chassis. New Douglas rear wheels. New 8" MWSC front tires & wheels. Stock cub cadet transaxle. New wilwood brake calipers. Looking to sell as a whole but willing to sell parts. Asking $3800 but negotiable. Call or text Ben Daigle at 985-852-0028.
---
FOR SALE:

Gravely pulling tractor. Engine is in rear. Ready to pull. Weights included. $700.

Call Joey Dixon at 919-352-8938.
---
FOR SALE:

Exercise machine. Works your abdominals. Like new, used only a few times.

Call Paula at 336-675-6364.
---
FOR SALE:
2 tractors: JD 110 and Cub 104. Ready to pull. Weights included. Alot of spare parts. $2000 for everything.
Call Jason Stephenson at 919-796-9798
---
FOR SALE:

580 Cub Cadet mower. Good metal. Has 4 speed rear end. 16 hp Briggs & Stratton. Runs and mows but motor is getting weak. Paid $350 for it first of this year. $350 OBO.

Call Danny Terrell at 919-240-2289.
---
FOR SALE:

New Lakota V-twin 330 (525) lift roller cam. Sold new $600. Buy it now $300.

New Midwest Supercub recast carb $200. (have two gas or alky).

New Vogal steel stock altered 340 lift cam- pin thru $275.

Rebuilt 18 HP overhead valve single cylinder has 18 HP cam- has not been started since rebuild- all new inside. $800

Call Ray Spainhour at 336-769-9900
---
FOR SALE:

3 Sport Stock/Stock Altered V Twins. New built. 1 is complete & ready to pull. It has welded, ported & O ringed heads, flat top pistons, solid lifter cam, adj rocker arms, & racing springs. $1500

2 long blocks with welded, ported, & O ringed heads. Flat top pistons, solid lifter cams, racing springs, & adj rockers. $900 each

Also many cams for twins & singles.

Call Joey Faircloth for information at 919-614-0047.
---
FOR SALE:
Cub Cadet pulling lawnmower. Great Condition. Has an 8 hp Kohler. Placed everytime it was pulled in the 10 hp class. Cut tires. Aluminum chrome wheels. New paint. Weight rack on bottom and under seat.
Call Travis Blanchard at 919-924-4557.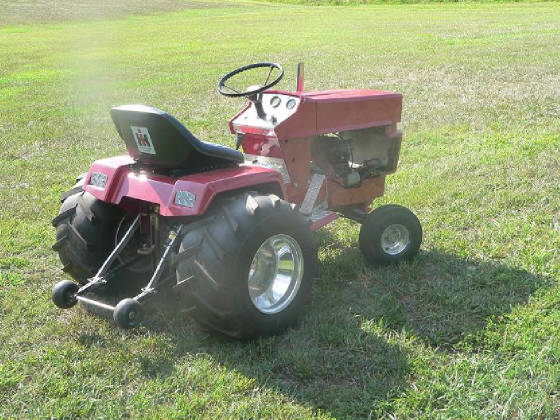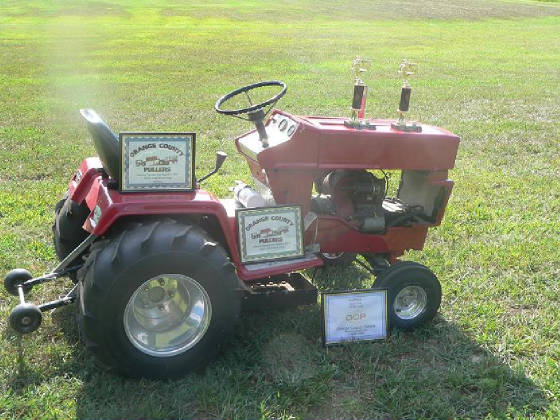 ---
FOR SALE:
108 Cub Cadet. Narrow frame. 20 hp twin cylinder Honda engine. 2 into 1 exhaust. 20x12x12 Dick Cepeks. 8x4 rims on rear. 4x8 solid wheels on front. New clutch. New paint. Weight box. Weights go with tractor. New aluminum adapter on new driveshaft. All good parts. Tractor is ready to pull. Selling because of health problems.
Call Fred Chatman at 276-755-1148.
---
FOR SALE:

Super Stock pulling tractor. It has an aftermarket block with 4.126 bore with 4" stoke. Has all vogel parts. It needs a starter and a battery, then it is ready to pull. It has been pulled twice and won, with a borrowed a starter and battery. Over $8000 in the tractor. Sold as is. Asking $3500 OBO.

Call if you would like to know more: Justin Slawter at 336-467-1757 or email at slawter89@yahoo.com .
---
FOR SALE:

2008 30hp Kohler v twin built for pulling. It has JE ultra seal rings, closed chamber kohler heads, 2 barrel carburetor and intake, and a very nice valve job. The engine is complete with starter. Asking $900.

Call Joe Faircloth at 919-614-0047 or email him at fairclot@duke.edu .
---
WANTED:

Looking for 12 inch wide rear wheels to fit a JD110.

Call Jason Stephenson at 919-796-9798.
---
FRIENDS OF OCP: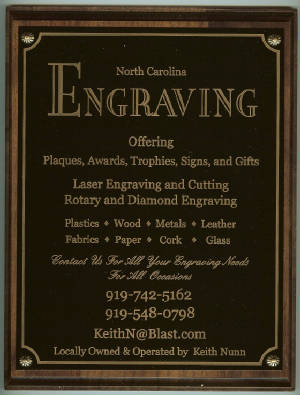 We will advertise for any of our self employed pullers on this page. Email the site or see Debbie for details.